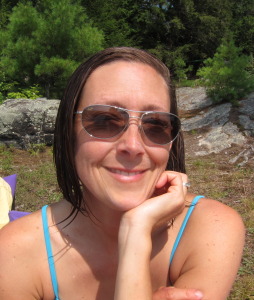 Amber J. Keyser is a former ballerina and evolutionary biologist who writes both fiction and nonfiction for tweens and teens. Her young adult novel The Way Back from Broken (Carolrhoda Lab, 2015) is a heart-wrenching story of loss and survival. The V-Word (Beyond Words, 2016) is an anthology of personal essays by women about first time sexual experiences. She is the co-author with Kiersi Burkhart of the middle grade series Quartz Creek Ranch (Darby Creek, 2017).
Her other books include the nonfiction title Sneaker Century: A History of Athletic Shoes (21st Century Books, 2015); a picture book, An Algonquin Heart Song: Paddle My Own Canoe (FOAP, 2007); two graphic novels about science, The Basics of Cell Life with Max Axiom (Capstone Press, 2010) and Decoding Genes with Max Axiom (Capstone Press, 2010) as well as a photo-illustrated nonfiction title, Anatomy of a Pandemic (Capstone Press, 2011).
Amber lives on the dry side of Oregon with her husband, two kids, and a dog named Gilda.
Click here for a high resolution author photo.