QUARTZ CREEK RANCH
A middle-grade series co-authored with Kiersi Burkhart
All four titles available now from Darby Creek in paperback, ebook, and library binding.

About the Series
Every summer, the gates of Quartz Creek Ranch swing open for kids in trouble. Under the watchful eyes of lifelong ranchers Willard and Etty Bridle, these ten to twelve-year-olds put their hands—and hearts—to good use, herding cattle, tending the garden, harvesting hay, and caring for animals. Aided by two teenage horse trainers, the kids must forge a bond with their therapy horses, grow beyond the mistakes that brought them to the ranch, and face unique challenges in the rugged Colorado rangeland.
About the Books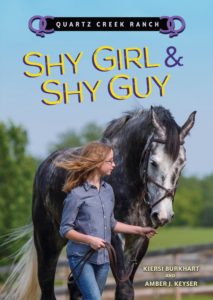 SHY GIRL & SHY GUY
For every kid, there's a horse that can help. At least, that's the idea at Quartz Creek Ranch. But Hanna doubts it will be true for her. Going to Quartz Creek was her mother's idea; Hanna's too terrified of horses to even go near them.
Then Hanna meets Shy Guy, a gray gelding who's just as afraid of people as she is of horses. Of all people, Hanna is the one Shy Guy begins to trust, revealing his grace and skill in the arena. But when Shy Guy's mysterious past comes to light, everything they've worked for starts slipping away. Can Shy Guy's confidence in Hanna give her the self-confidence she needs to save him?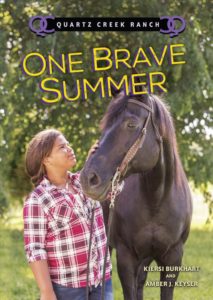 ONE BRAVE SUMMER
Paley Dixon is not excited about six weeks on a horse ranch without access to the virtual world of Dragonfyre. In-game, she's the Blue Elf, strong and powerful. In the real world, she's coming off a bad year after moving from Los Angeles to Denver. At least Prince, the majestic horse she's paired with at Quartz Creek Ranch, makes her feel like royalty.
To gain Prince's trust, Paley has to find her own confidence, which isn't easy with jerks like Bryce around. When she makes an exciting discovery near the ranch, life finally seems as interesting as Dragonfyre. But to protect her real-world treasure, she'll have to figure out how to turn courage into action.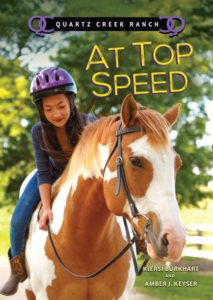 AT TOP SPEED
For Ella, winning has always been the goal, and at Quartz Creek Ranch, she's pretty sure she'll ace horseback riding too. There's just one hitch in her plan: Figure Eight, the beautiful quarter horse she's paired with, won't listen to a word she says.
Struggling with Figure Eight could be the motivation Ella needs to control her ego and temper—especially when she's turned on to barrel racing. Figure Eight would be incredible at it, she knows. But quiet, sensitive Jordan is the only one on the ranch with time to teach Ella those high-speed turns. Suddenly Ella faces a new challenge on her road to success: figuring out how to be a good friend.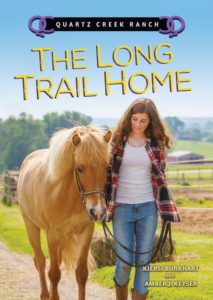 THE LONG TRAIL HOME
Rivka can't wait to get away from her family for the summer. Since that terrible day last year, she wants no part in their Jewish community. At least at Quartz Creek Ranch, she feels worlds away from home among the Colorado scenery, goofy ranch owners, and baby animals.
Other parts of Quartz Creek, however, are too familiar, including the unsettling wave of anti-immigrant threats to ranch workers. On a trip to the country, Rivka is also surprised to learn the history of Jewish pioneers in the area. When she and her defiant cabinmate, Cat, face disaster in the wild, Rivka will need to find strength deep within her to help them both get home safely.

Sometimes what a kid needs most is a horse
From Kirkus Reviews:
A middle school girl reluctantly experiences the therapeutic power of horses during a summer at Quartz Creek Ranch. When Paley Dixon's parents abruptly moved the family from LA to Denver just before the start of her sixth-grade year, Paley had trouble making friends and instead retreated into all-night video gaming. Now her parents have stuck her for six weeks of the summer on a ranch full of kids with troubled pasts—and no internet. Paley, who along with another camper and a trainer is black, is assigned a beautiful horse named Prince but lacks the self-confidence to lead him, let alone ride him. While she grows to like some of the other campers—there are only five—others send her further into her shell. The owners of the neighboring ranch present some stereotypical conflict, calling the campers "delinquents." (None of them has done anything particularly terrible.) A more unusual dilemma comes when the campers find a fossilized dinosaur skeleton and must work together to protect it from harm. This is series fiction, but it's a step above the usual breathless horsey fare, with well-drawn characters and realistic horse situations. Most notably, they're not all white or girls! Fearful, white Hanna, a girl who copes with her overcritical parents by stealing, is the featured protagonist among a different but similarly diverse group of campers in the simultaneously publishing Shy Girl & Shy Guy. A good book to hand out to horse-crazy kids.
From Booklist:
When Paley's parents force her to move to Colorado, she has a terrible time making friends. Even the middle school gaming club won't give her a chance, so she immerses herself in the virtual world of Dragonfyre, where her avatar, the Blue Elf, is brave and fearless and powerful. That comes crashing to a halt when her parents ship her off for six weeks of the summer to a horse ranch with no Internet and a strict no-technology policy. However, despite all her best intentions to hate it there, she finds herself loving it; her assigned horse, Prince, is as majestic as any steed in Dragonfyre, and Paley finds her confidence growing by the day. In this latest addition to the Quartz Creek Ranch series, Paley's story is quietly and earnestly told. The stakes are relatively low, and the plot is a bit thin, but the characters are well drawn and expressive, with complex and painful inner worlds. The small but sincere struggles will appeal to a wide range of readers, from online gamers to horse enthusiasts.  — Becca Worthington