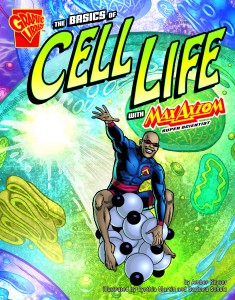 THE BASICS OF CELL LIFE WITH MAX AXIOM is part of the Graphic Science Series from Capstone Press.  In this graphic novel illustrated by Cynthia Martin and Barbara Schulz, Super Scientist Max Axiom explores animal and plant cells.
This book was super fun to write.  Who wouldn't want to shrink to microscopic size and dodge proteins whizzing around a cell in action?!  Who knew that nerve cells could be a meter long?  Or that stem cells may be the key to curing many human diseases?
Read this and you'll want to know more because Max brings out the adventure in science.