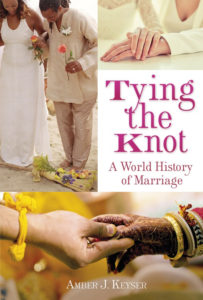 For thousands of years, marriage was a business transaction between two families. Fathers chose husbands for their daughters to build power, wealth, and social status. Rules about acceptable spouses were strict. Interfaith and interracial marriages were often forbidden.
Over the centuries, laws and traditions governing marriage have changed dramatically. In the United States, interfaith and interracial marriages are common. Same-sex marriages are legal there and in many nations. In some places, however, centuries-old customs are still firmly in place. Modern matrimony has its ugly sides, such as rape, forced marriages, and bitter divorces. Learn about the good and the bad, with people from around the world discussing the complexities and the joys of marriage.
Spring 2018 – Twenty-First Century Books
From School Library Journal:
What's love got to do with it? Not much, Keyser asserts in this examination of the history of marriage. Up until about 250 years ago, marriage was mainly a transaction or union of couples that entailed political, social, and economic factors. Her discussion of traditions and customs from different cultures and countries is a fascinating and insightful one. All types of unions are explored in this book, including levirate, same-sex, green card, and polyandry marriages. Keyser is straightforward and objective in her examination of different views on the institution. She highlights how changes in society (women's rights, economic conditions, divorce rates, etc.) as well as a general shifting of attitudes has greatly affected marital unions. Keyser's book is well researched and greatly illustrated with photographs. VERDICT This highly readable text would be a commendable addition to a social science collection for its pertinent information on cultural studies.
From Kirkus:
Royal weddings, a campaign for toilets in India linked to marriage, and trash-the-dress photo shoots (a new U.S. custom) are introduced in this whirlwind tour of courtship, marriage, and divorce. Using catchy chapter headings ("Control Freaks" focuses on the historical, political, and economic reasons for marriage), this slim volume offers a cursory glance at marriage in many religions, the ancient world, and some contemporary cultures, primarily the U.S. and Great Britain. China, Japan, and India are mentioned, while most European cultures are lumped together. The chapter on polygamy, "More Ways Than One," starts off highlighting Zulu traditions with Jacob Zuma, the South African president with four current wives. Scant information about Latin America, the Middle East, and the Pacific region appears. Same-sex marriage and interfaith and interracial marriage are covered in "Forbidden Love," which starts with celebrity couples such as David Bowie and Iman (white and black, Christian and Muslim) and Neil Patrick Harris and David Burtka (two men). The legal struggles for interracial marriage (1967 Loving v. Virginia) and same-sex marriage (2015 Obergefell v. Hodges) are summarized, but the last sentence of the chapter again refers back to famous couples. This celebrity approach and such sections as "Over-the-Top Weddings," along with references to YouTube and Vimeo, seem meant to ensure teen interest. Photographs (mostly in color) are clear and relevant. Readers can tease out interesting takes on feminism and women's history. Some self-help sidebars on dating and relationships are generalized and superfluous. An up-to-date if not in-depth introduction to a topic that has certainly affected many people's lives throughout the ages.