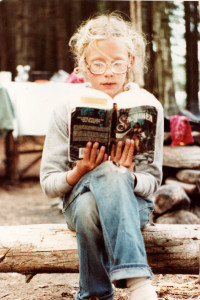 I wish that I had a list of every book I've ever read. Better still, I wish I actually owned every book I've ever read.
I could run my fingers over THE SNOW QUEEN and THE SUMMER QUEEN and think about the world they opened to me.
I could reread SACAJAWA and know exactly how I learned about the cruelty of some men.
I could look at that @#%# copy of THE FOUNTAINHEAD and remember the dumb-ass boy I chose because of it.
I could share THE CHALICE AND THE BLADE and the story of female power through history.
It would be amazing… Imagine the bookshelves I would need to store them. Imagine the way it would illuminate a lifetime of voracious, greedy reading.
Instead I am going through my bookshelves and picking books to sell back at Powell's City of Books. In preparation for my move to a new place in a new town, I am purging, and while it's easy to shed old sweaters and torn jeans, the books have to be wrenched from my hands.
It helps that I will sell them all for bookstore credit, which can be spent with abandon, but I can't shake the feeling that I will be less than myself without my books. Without them, will I know where I've come from? Will I know who I am? How will I find my way?