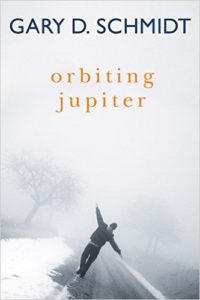 Oh, this book, this beautiful, heart-breaking book… There is so much I want to tell you about ORBITING JUPITER by Gary Schmidt, but the most important thing is that you must read it.
Gary Schmidt is one of my favorite authors because he understands young people so deeply. The thing I appreciate most about ORBITING JUPITER  is that Gary Schmidt honors the love between young people. It is so easy for adults to disregard a teen who says they have fallen in love. Oh, you don't understand what that really means. You're not old enough to know. As if, something about being young means that emotions don't affect you the same way. I call bullshit on that. How can we as parents expect to have real and honest conversations with our children if we devalue their feelings? Gary Schmidt takes young people seriously and writes about them with such respect and empathy.
Another thing about this book: it was a reading experience like I used to have. I fell into this world, his characters are real to me, and all I wanted was for them to be okay.
One of the sad side effects of my life as a writer is that I no longer enjoy reading the way I used to. Most of the time, as I read, my mind whirs along analyzing what works and what doesn't work about a book. If I read a hyped book and I don't like it, I'm really mad. It is a rare book that can absorb me to such a degree that I am reading only to know what happens, only to live in the world of the book a little bit longer.
So this book… so much love.
Go read it!