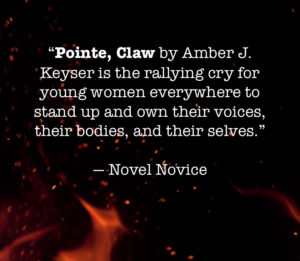 This week Novel Novice, one of my favorite book blogs, posted a really great review of POINTE, CLAW. It's the kind of review that makes me blush a little but also fist-pump the air because when a reader really gets what you are trying to do as a writer, it feels like victory!
Here's the whole thing:
A cutting look at the many ways teen girls' bodies and lives are viewed as objects, Pointe, Claw by Amber J. Keyser is the rallying cry for young women everywhere to stand up and own their voices, their bodies, and their selves.
Steeped in a subtle, barely-there magic realism, Pointe, Claw is at times surreal, at times jarring, but always poignant and relevant. Keyser has written a bold and unforgiving look at the lives of teen girls today, told through the dual narratives of Jessie and Dawn. Connected by a childhood friendship, their stories are both starkly different and eerily similar.
A book that feels more important now than ever before, Pointe, Claw forces the reader to face the reality of life as a young woman today and consider the unique challenges and expectations they/we face on a regular basis. So regular, in fact, that we often forget to question it. Dawn and Jessie forget to question it.
Until they do question it.
Until they break free and start pushing for something more. Pointe, Claw follows these girls on a journey to self awareness, acceptance, strength, and freedom. We see what can happen through the power of grace and self-ownership. It's only through letting go that these characters can move forward, and it's a powerful, startling thing to witness.
With barely-there touches of magic realism and superbly wrought prose, Keyser invokes a powerful and unforgiving set of emotions. Regardless of how you feel after reading this book, it will make you feel. And isn't that the sign of a truly remarkable book?