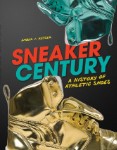 As the release date for my newest nonfiction title SNEAKER CENTURY approaches, reviews are starting to come in.
Nerve-wracking? Yes.
Exhilarating? Also Yes.
It's exciting to know that real live humans will be reading my book soon. I had a ton of fun writing this one. It's nice to know that Kirkus thought it was good (other than the personal trauma of the 1970s jogging boom, which I totally understand). If you are a blogger, reviewer, teacher, librarian, or bookseller, I can send you a pre-approved link to the digital ARC on NetGalley. Just drop me a quick note.
Anyway… here's what Kirkus had to say!
A comprehensive look at the rise of sneakers in American culture. Exploring a narrow field that nevertheless yields plenty of interest, the author shines a light on several aspects of sneaker culture. Topics range from the footwear's early development in the early 19th century to its rise in popularity that coincides with the rise of the American teenager. The book's layout augments the text with colorful infographics and various small sidebars that, while not necessary to the historical narrative, are well worth highlighting on their own. Discussions of the shoe's rise to fame in the 1950s and resurgence in the 1980s (both thanks to popular figures like James Dean, Steve McQueen, Run-D.M.C. and Michael Jordan) are the best bits. A portion regarding Olympic runners and shady endorsement dealings makes for another amusing section. A discussion of the global economics of shoe manufacturing arrives a bit too late in the book to capture readers' interest, and it doesn't help that this section is much less elaborate than all those that came before it. Another lesser moment is a look back at the 1970s fad of "jogging," something no one wants to be reminded of. An illuminating and amusing look at a subject with much more history than one might expect. (Nonfiction. 12-16)