This year I'm participating in the 2015 #Readukkah Challenge hosted by the Association of Jewish Libraries. The goal is to spread the word about wonderful Jewish books during the eight days of Hanukkah. So here they are: eight days of good reads on Jewish themes. Enjoy!
DAY SIX #READUKKAH CHALLENGE: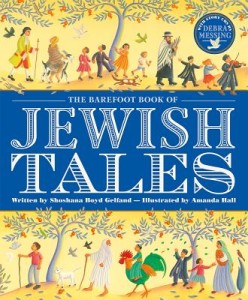 About this book:
This engaging collection includes eight delightful tales from the Jewish tradition. Each story has been chosen for its appeal to families and each has a simple — yet powerful — message. Written by Rabbi Shoshana Boyd Gelfand, herself a mother of three, this is a fantastic set of stories to share and to treasure. Includes two story CDs narrated by Debra Messing.
Why I think you should read it:
I love all of the titles in the Barefoot Books line up. Our family has most of them (Princesses, Knights, Pirates, Horses, Animals, Grandmothers, and of course Jewish Tales). We love to listen to them in the car. Perfect for those trips around town. The readers are always great and the stories are fascinating.
Happy Hanukkah