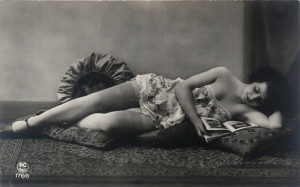 I write frequently about claiming space—space to create, space to protest, space to explore sexuality. On a day-to-day scale, claiming space is about getting an entire seat on the bus to yourself or calling out microagressions or expressing your own desires. On the scale of a life, it's about staking out our territory in the world and claiming the right to be our true selves.
One of the things that I hoped to accomplish when I put together THE V-WORD was to create a space for conversations about who we are sexually and who we want to be sexually. I wanted to break through the wall of "nice girls don't" and "boys will be boys" to reach a truer place.
Reading THE V-WORD was supposed to feel like sitting down with a smart group of older sisters or aunties and realizing that our sexual selves don't need to be shoved in a closet. It wasn't supposed to be erotic or titillating.
So why—you might ask—am I celebrating the publication of THE V-WORD with a burlesque show? Young adult readers can't even attend. And talk about titillating… We've all seen those pictures of Josephine Baker and Bettie Page—va-va-voom!
Well here's the deal, when we get sexual with someone else, we bring our whole selves to the table—our emotions, our desires, our bodies, and our baggage. For many, how we feel about our bodies and how we claim space to inhabit those bodies can be pretty conflicted.
What I love about modern burlesque is that it empowers performers to celebrate their bodies—scrawny, curvy, old, young, variously abled—it's all there on the stage to delight and yes, to titillate. They are performing for an audience, and yes, the performers want you to love it. But burlesque is just as much for performers as for the audience.
I love this TEDx talk by Lillian Bustle (definitely watch the whole thing and read this profile)! She says that when she saw her first burlesque performance she was blown away by the "daring, creative, funny women of all shapes and sizes [who looked] like they could walk through fire." She wanted the confidence to claim the territory of her body and to love it. Lillian became a burlesque performer and says it is her "courage reference," which means "doing something brave and keeping that feeling in your pocket for times when you're not feeling so brave anymore."
Burlesque is far more than striptease. It is a form of creative expression that supposes, as Lillian says, that "Being beautiful is a decision that you make. Most of us sit around waiting for permission, for affirmation, for some other [person] to swoop in and tell us that we're worthy, that we're beautiful. It doesn't have to be like that … you get to wake up one day and decide that you're beautiful."
If you believe girls and women should be able to explore, discover, and own their sexuality without shame, then COME to Booklover's Burlesque: The V-Word on Friday, April 8th, at Crush Bar! You can help support the movement of encouraging young women to find, fight for, and use their voices when it comes to their sexual lives.
Come curious.
Leave transformed.
(And don't forget to get your tickets in advance!)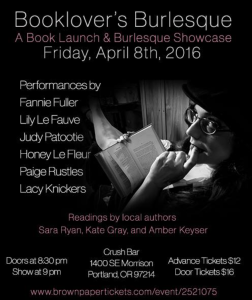 Readings by Amber Keyser, Sara Ryan, Kate Gray, and others!
Performances by Fannie Fuller, Lily Le Fauve, Judy Patootie,
Honey Le Fleur, Paige Rustles, and Lacy Knickers!
Books available for purchase!