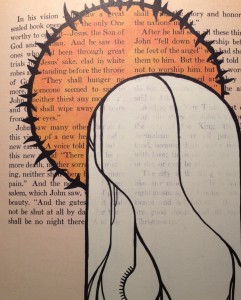 I have, after 16 months, finished Moby Dick.
I could not have done it without the Moby Dick Big Read (especially the chapter read by David Attenborough) and Moby Dick In Pictures by Matt Kish.  This image is one of my favorites from the book.
To the crazy man who told NPR that Moby Dick was the most influential book he ever read, I say, "You are nuts."
To Major League, which I watched last weekend, I say, "Damn your spoilers!"
To those of you who claim to have read every page of this behemoth but haven't really, I say, "You shouldn't have skipped chapter 94 – The Cassock."
As for me, I'm moving on to another version:  Moby Dick, a Cozy Classic, illustrated in wool felting with a twelve-word text.
See you in 16 months!