The Jewish holiday of Yom Kippur concluded at sunset yesterday. It's the most serious, the most intense, and the most challenging of the Jewish holidays. The services are long and the liturgy is one that is often hard to fit inside the norms of modernity. We are asked to meditate on the possibility of death, on sin, and on all the ways we have failed to live up to our ideals.
Like I said, a tough holiday.
This year during the Kol Nidre service two lines stood out to me. No, more than that, they grabbed me by the shoulders and shook me hard.
When the wrongs and injustices of others wound us, may our hearts not despair of human good. May no trial, however severe, embitter our souls and destroy our trust.
Let us not despair of human good.
Of human good.
Human good.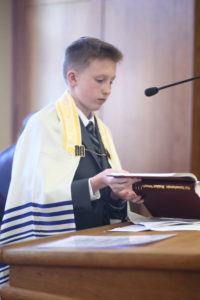 As I thought about these lines, I noticed my son, sitting close and wearing his late grandfather's tallit (a prayer shawl). Now my father-in-law was an opinionated, curmudgeonly pain-in-the-ass. (I'm sure I won't get any disagreements from those who knew him!) I am pretty sure he didn't share my views on plenty of social issues. But I am also sure of this–he was a good man. Not a perfect man. Certainly not a champion of social justice. But a good man to his friends and family. A man who would go down fighting for those close to him.
I'm also pretty sure he would have been a Trump supporter.
I can tell you're starting to protest. Wait a second, Amber. If he was a Trump supporter, how can you say he was a good man. Bear with me here.
My father-in-law was a defender of many American values–country, military, family, community–what he lacked was not a good heart but a widened circle of empathy. Let me explain. Each of us has our own specific set of circumstances. It's easy to empathize with those exactly like us, same religion, same upbringing, same gender, same sexuality, redheads, whatever. Most of us expand the boundaries to include others, more like us than not, but still different. How many of us can claim a truly encompassing embrace that takes in even those we can barely comprehend? Not many, I expect.
Last night I read this article, which looks like a silly clickbait piece (you should read it), but is saying something very important about why people have flocked to Trump. It dissects the urban/rural divide in a way that opened my eyes to the perspective of people very different from me. Here I sit, a member of what the article calls the liberal elite. How easy for me to judge. For me to call them racists because they are not heeding the clarion call of Black Lives Matter (which is really, really important in this widening circle of national empathy) is in itself a failure of empathy.
For us to put this country back together after this election cycle (When the wrongs and injustices of others wound us…), we must continue the fight for social justice and we must also widen the circle of empathy to disenfranchised white people living in struggling communities outside of the urban/liberal bubble.
But I digress into political solutions…
This year on Yom Kippur, I meditated on empathy. My mission as a writer, a parent, and a human being to expand the circle of empathy, wider and wider at every turning. And this is why I am proud every time I see my son in my father-in-law's tallit.
This is why I will not despair of human good.