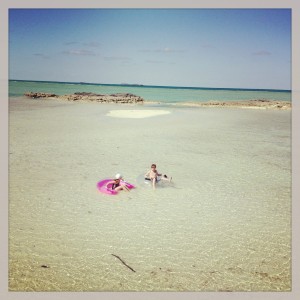 My family and I spent spring break in a rented house on North Andros, the largest island in the Bahamas but one rarely frequented by tourists.  There are no large resorts or mega-hotels, no gift shops, no high end spas.  In other words, my kind of place.
I had a week's reprieve from email (the wifi was down most of the time), to-do lists (other than: eat, read, kayak, swim, snorkel, bird-watching, sleep, repeat), deadlines, and the interwoven schedules of my family of four.
I re-remembered and re-affirmed that what I love and what I need is wide, open space.  I need the horizon so I can see where the moon sets each night.  I need the expansive sea so I can track the rise and fall of the tides.  I need the untrammeled sand, twice renewed each day, to find my path.  And most of all, I need the wide, open spaces of my mind once it is cleared of all the must-do, should-do detritus of daily life.  I can not create without  it.