When a young black woman is pushed, insulted and harassed at a Trump rally—
When armed men destroy Paiute sacred lands—
When a man tells a woman that she has to carry a child of rape—
When there are so many mass shootings that I can't remember the details—
When anger is everywhere I look—
I get angry too.
I don't want a world of racism and institutionalized privilege, violence and hate, ignorance and distrust.
But you know what?
I don't want to be full of such anger either.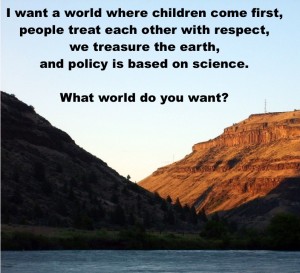 Today I offer you my hope for the world instead of my rage, and I challenge you to turn darkness into light. The world we will get is the one we can imagine, the one we can build with our hearts and our hands.
Share this hope. Or better yet, share your own.
What world do you want?