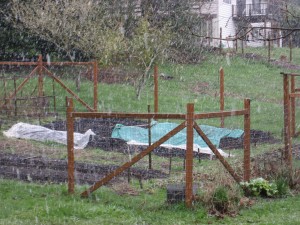 After a several week long hiatus, I'm back to my current WIP.  I'm about 30K squishy, all-over-the-place words in to the thing and have enough of a handle on it to know it's time to get serious about plotting, story arc, character arc, etc.
So for the last hour I've been on the wood floor with a huge piece of drawing paper, scribbling, sketching, and drafting out the bones upon which the words will hang.  Can you imagine me totally absorbed?
Imagine my shock to look up and see snowflakes the size of frosted flakes falling thick and fast outside.  Right on my newly planted peas.
So much for the best laid plans in gardening (and writing)!