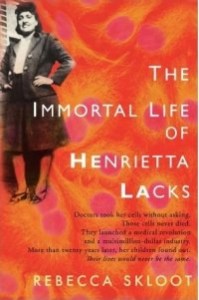 This book is an absolute must-read!
I don't care if you say that nonfiction is not your thing.  This book is your thing. Rebecca Skloot has written riveting story of both family and science.  You won't be able to put this book down.  I promise.  Now get thee hence to a bookstore and BUY it because part of the proceeds go to help the family of Henrietta Lacks. Her cells changed the face of medicine and science and yet her family lives in deep poverty.  They deserve better.
And Rebecca Skloot deserves every one of the hundreds of accolades for this book.  She worked her butt off for ten years, risked her own safety, and pushed far beyond her own comfort zone to research and write this book.  She is a master storyteller!