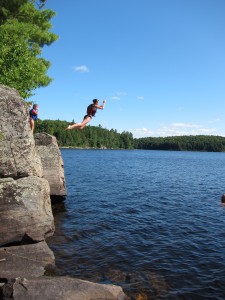 It's my birthday.  I'm 41.  And I want…
… to keep taking risks (like jumping off rocks at Pen Lake this summer).
… to maintain my health so that flying leaps are always a possibility.
… to write words that turn into stories that turn into books that find readers.
… to be present for my family (even when sometimes I have to shut them out to write those words).
… to remember that time is a construct–there's plenty of it for what's important.
… to give compassion to others and myself.
… to embrace incongruities.
… to make the world a better place in my small way.
And I really want a nice led headlamp.  A girl has needs!  Eat a piece of cake for me today.  We deserve it!