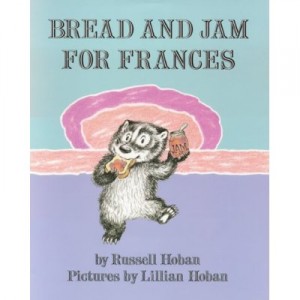 Jam on biscuits, jam on toast,
Jam is the thing that I like most.
Jam is sticky, jam is sweet,
Jam is tasty, jam's a treat–
Raspberry, strawberry, gooseberry, I'm very
FOND… OF… JAM!
From BREAD AND JAM FOR FRANCES by Russell Hoban
I'm home sick today, eating jam and toast and drinking tea and thinking how very, very much I love Frances.  I especially love that she's a badger.  Don't see enough badgers in kid lit these days!  Lots of bears and rabbits and pigeons but a dearth of badgers who jump rope.  Alas!