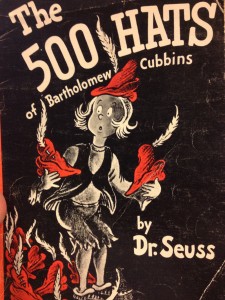 I've had Dr. Seuss on the brain of late (like the rest of the kidlit and elementary school world, I suppose).  When most people think of the good doctor-ish doctor, they think about his mastery of rhyme and meter and his scrumptastic made-up words.
And yes, yes, yes, I love all that (especially the spooky pale green pants with nobody inside 'em), but it is, perhaps, easy to forget that Master Seuss was also a master storyteller.
So today I offer you THE 500 HATS OF BARTHOLOMEW CUBBINS.  It's got a perfect story arc, great characters that evoke strong emotions, and lots of beautiful, symbolic pairings (the view up and the view down the valley, for example).
This is one of my favorites by Dr. Seuss and this is the actual tattered cover of the copy I've had for nearly forty years.  Pages are starting to fall out and I guess I'll have to replace it but as the kids and I were reading it last night, I thought: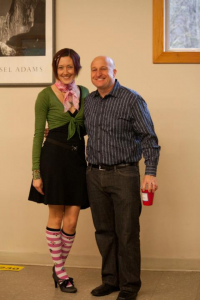 You can look high and low,
You can look far and near,
But the book that you want,
Is this one right here!
This weekend, my husband and I attended our kids' school auction, which was a Dr. Seuss themed extravaganza.  Here's a peek at my whimsical, Seussical attire.  Too bad it's hard to make out that I chalked my hair pink.  I'm sure Dr. S would've approved.