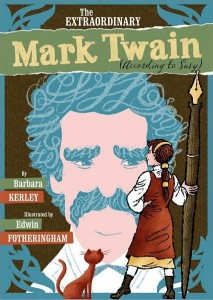 This delightful, picture book biography is up for an Oregon Book Award tonight.  I'll be in the audience clapping loudly for Barbara Kerley.
As a nonfiction writer myself, it has been gratifying to watch picture book biographies and history come into their own. Writers are pushing the form to greater excellence by using innovative formats and many of the techniques of fiction: scenes, voice, character, story arc, etc.
Interestingly, science books for kids have not innovated in the same way (with the exception of scientist profiles).  I think it's the next frontier and I plan to be there!
Recently I gave my agent a manuscript about extinction biology that melds a graphic novel format with more traditional nonfiction.  I can't wait to see what he says!