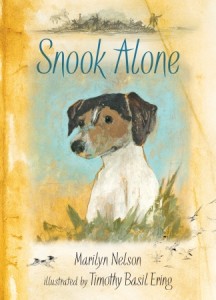 If you don't know the work of Timothy Basil Ering, you should.  I would buy anything he's worked on.  My love of Frog Belly Rat Bone is profound!  So that said, even if the reviews of Snook Alone hadn't been spectacular, I would have bought it.
And this book… ah… it sings, it philosophizes, it scrabbles in the sand, it sniffs it's own butt.  And I love all of it.  I could not pick favorite bit, but listen to this:
Snook curled in the farthest corner
and watched all night.
In the silence, he listened.
The wind was his breathing.
The waves were his breath.