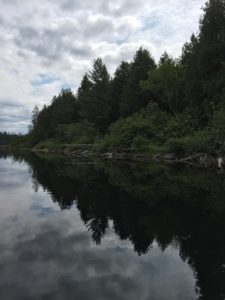 I'll be honest. I'm having a tough time.
For a while I was just burned out. Writing four books in less than eighteen months will do that to a writer. But now it's been almost three months since I turned in the last project. I've been on two canoe trips and spent lots of time in my happy place. I've rehabbed my knee and gone back to doing aerial silks. I've been trail running with the dog. And I've been trying to map out my next project.
It's not working. The words aren't cooperating.
Quite a few years back, when my daughter was little, she came home from an obviously awesome lesson about story structure declaring, "I hate stories that don't have trouble!" It's Writer 101 material, of course. Good narratives need conflict—they start conflicted and get worse and then even worse. Trouble is key.
And trouble is also my stumbling block. I am so very weary of conflict. My social media universe is nothing but trouble. My morning OPB shows. The newspaper. Every conversation. Everywhere I turn. Trouble. Sometimes it seems like the world is going down in flames. Or maybe just American democracy and civility and the safety of children and respect for other members of humanity.
As I scribble ideas in my journal, I can think of lots of snippets and images — a fish floating through a girl's room, Miyazaki-style; a road made of solar panels; a boy farming carbon in some future world; a cross-country romp. Yet when I try to shape them into a narrative, I run into the trouble problem.
I want male characters who ask for consent and diverse characters who are not oppressed and female characters who aren't demeaned. I don't want them to have to fight for their lives or save the world or make heart-rending choices or defy authority. I don't want to write villains or a world in ruins or a broken family or abuse. I just want everyone to be calm and happy and swaying in place with their hands entwined.
I am overwhelmed with heartache and trouble. The words aren't cooperating. Everyday I try to acknowledge the suffering, to speak against it, and to amplify the voices that the world needs to hear, and then I try to turn away from horror and circle back toward a place where I can create. I try to return to joy.
But it's not working. That's the truth—at least it's my truth right now. The words are not cooperating.