Finally, I'm getting a chance to post some fun pictures from phase two of the West Coast tour I was on with Elana K. Arnold to promote our new young adult and middle grade novels. We were hosted by Elana's sister and nephew, who I fell in love with. Plus, I got to see one of my cousins too. I loved hearing about her geology dissertation project! (Be scared of earthquakes, people!) Here are some highlights from our Bay Area swing!
#1
We did a school visit at a lovely school in Davis, California, called The Peregrine School. Fun fact: The Saw Whet School in Elana's book,  A BOY CALLED BAT, was based on Peregrine. The kids were great and so was the paper mache sloth in the entry way!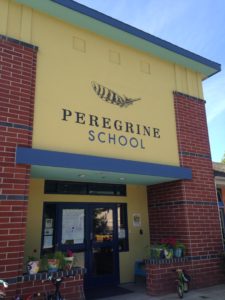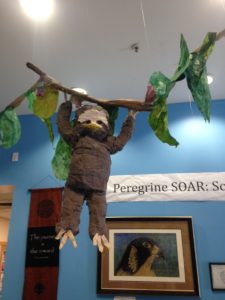 #2
We had a very lively and slightly argumentative crowd at Logos Books, which is a nonprofit bookstore that benefits the Davis Public Library. Ask us sometime over a drink (hint, hint).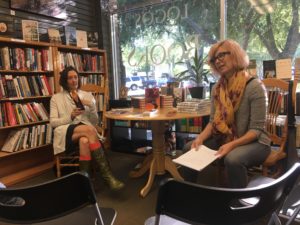 #3
We took this picture with a giraffe for Heidi Schulz because we love her and her book GIRAFFES RUIN EVERYTHING!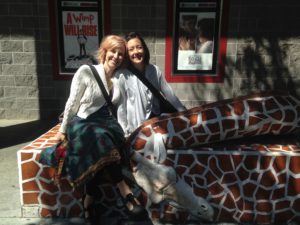 #4
Avid Reader in Davis did an amazing window display for our middle grade event, which was attended by a very enthusiastic young girl and her parents. (Yeah, just one! Sometimes that's how it goes.) Elana and I thought she was the bomb!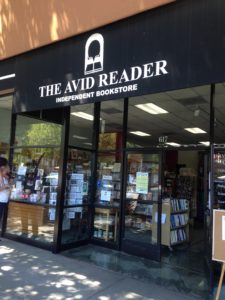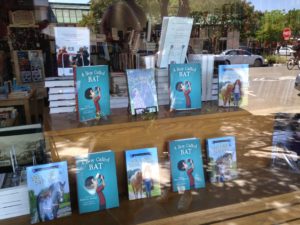 #5
Stephanie Kuehn is exactly as smart and insightful as everyone says. We had an amazing discussion in Oakland at A Great Good Place for Books. But you should know that I bought a copy of her book THE SMALLER EVIL and it freaked me out. (Read it! You'll see!)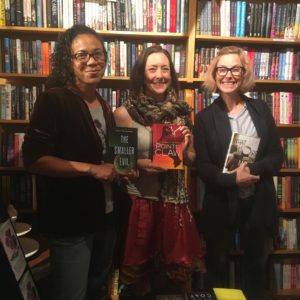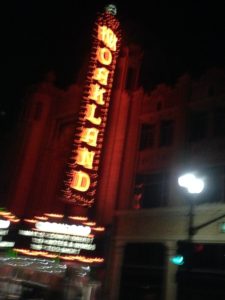 And that, my friends, is how we rolled on Book Tour: Bay Area Edition. I've said it before and I'll say it again: if you have a chance to go on tour with Elana, TAKE IT! She couldn't be more delightful to travel with! XO