This year I'm participating in the 2015 #Readukkah Challenge hosted by the Association of Jewish Libraries. The goal is to spread the word about wonderful Jewish books during the eight days of Hanukkah. So here they are: eight days of good reads on Jewish themes. Enjoy!
DAY FIVE #READUKKAH CHALLENGE: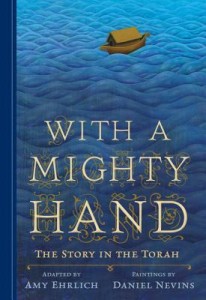 About this book:
Amy Ehrlich retains the beauty, drama, and mystery of the Torah in this unique adaptation, gorgeously illustrated with paintings by Daniel Nevins. The Torah is the first five books of the Hebrew Bible, which Christians call the Old Testament. It tells the story of the beginning of the Jewish people and their relationship with God. From Adam and Eve to the first patriarch, Abraham, to Moses, who led his people to the promised land, the stories in the Torah have been studied and revered since it was first written down nearly 3,000 years ago. Now in this glorious volume, Amy Ehrlich crafts an authentic, lyrical adaptation that is presented as a continuous narrative, one that honors the complexities of the original text. Daniel Nevins's richly hued paintings bring the ancient wonders of the Torah to resonant life, making this truly a gift to savor, share, and treasure.
Why I think you should read it:
This is not your typical "children's bible." It does not attempt to simplify the stories of the Torah into easily-digested moral parables. Instead it captures all the thought-provoking, weirdness of the Torah in a way that leads to excellent family conversations.
Happy Hanukkah