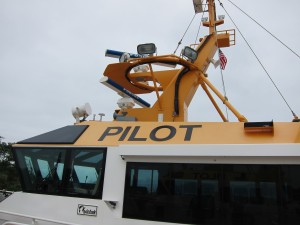 This is the thing about writing…  I get to fall in love over and over again.   And not just over shiny story ideas.  I know writers gush about that a lot, but I tend to make an idea prove itself to me before I commit.
(Run with that, Dr. Freud.)
No, I fall in love with the deep substance of the story and–especially with nonfiction–the subjects.
Last week, I spent three days in Astoria, Oregon, doing research for a new book project on the pilots who work the Columbia River bar.
I interviewed two pilots, toured the boat basin and climbed aboard both of the pilot transport boats (Chinook and Columbia), and checked out their shiny new helicopter at the airport.  And, in a completely unexpected turn, one of the pilots offered to let me ride along as they transferred a pilot to an inbound bulk carrier ship.
AMAZING!!!
The two bar pilots I interviewed held me rapt.  I could have listened to them talk for hours.  And if you had been there and heard the way they talked about the sea and the ships and the life of a sailor, you would've fallen in love too.  And if you had been on Chinook, zooming across the most dangerous river to ocean crossing in the world, you would have lusted for the power of her engines, the grace of her handling, and the perfection of her lines.
You would fall in love too.