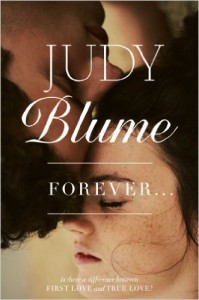 Do you remember reading FOREVER? If you, like me, were a teen in the 80s or 90s, Judy Blume's depiction of teenage love and first time sex was monumentally important. We'd never read anything like it—realistic sex where nothing bad happened to the teens involved.
There is a lot more sexual content out there now, but teens, especially teen girls, are still turning to young adult novels for information. This is one of the reasons that my new anthology THE V-WORD includes a Q & A with teen librarian Kelly Jensen about portrayals of teen sexuality in media.
In a wide ranging conversation, we talk about the best depictions of arousal, body image, gender identity, female masturbation, queer sex, straight sex, rape culture, and enthusiastic consent. Throughout, Kelly recommends go-to titles for teens who want to know more about these issues.
In a recent review on NetGalley, Melanie P. wrote:
I also loved the Q&A after the seventeen essays in this book. Kelly Jensen's answers are so amazing, and I aspire to be more like her. She is so strong, and such an amazing voice for every young woman out there. I can't recommend this book enough, just for the Q&A session at the end alone. I truly do believe with all my heart that this is a book all young girls would benefit from reading, because this book explores what schools and other outside sources are not going to teach you.
If you want to know more, check out this great article in the Huffington Post called 8 Books That Don't Sugarcoat Teen Sexuality and of course look for THE V-WORD at your nearest bookstore.
Add it to your Goodreads list