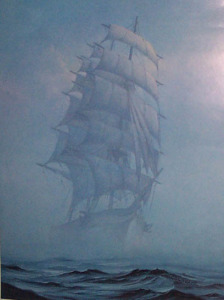 When I was pregnant with my first daughter, I saw, as if prescient, the life we would share—a voyage laid out upon a map of the future, our ship heading out to sea. And then there was death, and our ship rode the waves half in and half out of life. She could not remain with me nor I with her no matter how desperately I wished it.
Our vessels diverged, hers ephemeral and moon-pearled, upon waters I could not travel. She bore away the life I believed we were meant to share. My own craft, war-beaten and barely seaworthy, foundered.
As I limped sail-tattered and broken-masted on a course set by winds that refused to listen, I watched the ghost ship that carried my daughter. Across the swells, I saw her grow into a plump-limbed toddler, her auburn curls twisting in the sea wind. A lithe girl, easy with laughter.
And when she was no longer visible in the distance, I watched the ship as long as I could in the broad expanse of longitude and latitude.
I can no longer see the ghost ship.
I did not follow its course.
I can not imagine her fourteen-years-old.
I could not live that voyage.
— For Esther
With thanks to Cheryl Strayed and Tomas Tranströmer for writing about ghost ships and grief.