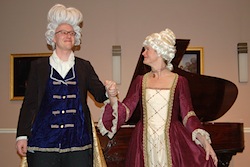 My divine critique group member, Elizabeth Rusch, celebrated the release of her newest picture book biography with a powdered wig!
For the Love of Music: The Remarkable Story of Maria Anna Mozart is a must read!
When she got to the part about how all of Maria's original compositions have been lost, the audience and I teared up.  Brilliant!