This business is very weird.
I've been writing hard for years, dreaming up projects, deciding how to frame them, finding the right words.  I've struggled to find the right agent (not just AN agent but the exact-right-perfect-for-me-one).  I've considered dropping out more than once.  There were times when it seemed like nothing would ever sell.
And then…
… all the atoms in the universe line up.
A few weeks ago, I announced the sale of my upcoming anthology THE V-WORD, and last week Publisher's Marketplace had this: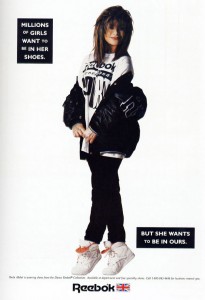 Amber Keyser's SNEAKER CENTURY, an illustrated social history of the ubiquitous shoe, to Domenica Di Piazza at Twenty-First Century Books, for publication in Spring 2015, by Fiona Kenshole at Transatlantic Literary Agency (World).
I think I just might be floating a few inches off the ground, or maybe it's my sneakers!
I'm just like Paula Abdul back in the day.