Book people… you know the ones.
They run book stores. They are teachers and librarians. They craft careful displays of excellent books on Africa or antique airplanes or civil rights or poet-adventurers. Book people hold a book to their chests and then press it into your hands saying, "I love this story."
Parents and children. Writers and readers. Tea drinkers and skateboarders. Scientists and artists. Book people share words and ideas and emotions and experiences. They will read Sailor Moo, Cow at Sea a hundred times. A thousand. Book people realize that they have two, maybe three, copies of the same book on their shelves. They shrug and say, "I loved it so much!"
Oh but book people are the best humans…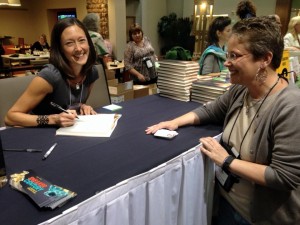 It was my delight to spend the weekend with book people extraordinaire, first at the Pacific NW Booksellers Association Trade Show and then at the Oregon Council of Teachers of English and Social Studies Conference. I was able to show off my book and meet some amazing people! My book stand also looked great. A book friend of mine recommended that I get a personalized banner stand from a company similar to Trade Show Booth to make my book stand out from the crowd and it certainly did! It got so much attention and I was able to share it with so many people.
I did my first ever book signing for THE WAY BACK FROM BROKEN and was thrilled to have the first book go to Patti, an educator that I met several years ago during a school visit.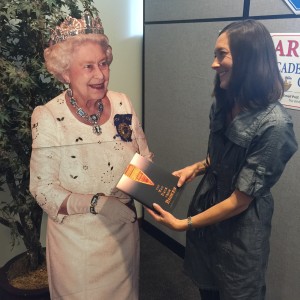 I had the distinct pleasure of exchanging books with Sheila Hamilton (ALL THE THINGS WE NEVER KNEW) and Ellen Urbani (LANDFALL).You are going to want to read these books!
I even gave the Queen a copy of my book. But you know what?
Hanging out with the book people was better! XO