This year I'm participating in the 2015 #Readukkah Challenge hosted by the Association of Jewish Libraries. The goal is to spread the word about wonderful Jewish books during the eight days of Hanukkah. So here they are: eight days of good reads on Jewish themes. Enjoy!
DAY ONE #READUKKAH CHALLENGE:
BLUE THREAD
by Ruth Tenzer Feldman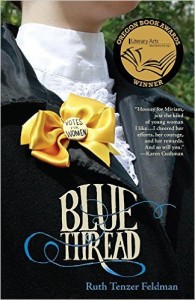 About this book:
The women's suffrage movement is in full swing in 1912 Portland, Oregon—the last holdout state on the West Coast. Miriam desperately wants to work at her father's printing shop, but when he refuses she decides to dedicate herself to the suffrage movement, demanding rights for women and a different life for herself. Amidst the uncertainty of her future, Miriam's attention is diverted by the mysterious Serakh, whose sudden, unexplained appearances and insistent questions lead Miriam to her grandmother's Jewish prayer shawl—and to her destiny. With this shawl, Miriam is taken back in time to inspire the Daughters of Zelophehad, the first women in Biblical history to own land. Miriam brings the strength and courage of these women with her forward in time, emboldening her own struggles and illuminating what it means to be an independent woman.
Why I think you should read it:
It is not about the Holocaust. Books about WWII are important, and I never want to forget that period in Jewish history, but too often it feels like the ONLY Jewish stories are horror stories. BLUE THREAD connects the experiences of Jews in two other important historical periods – the early 1900s during the suffrage movement and Biblical times. Miriam is a wonderful heroine with a distinctly modern voice. Also there is time-travel!!!
*The companion novel to BLUE THREAD is called THE NINTH DAY and it is also an excellent read.
Happy Hanukkah